15 Jul

Lawyer Jonathan Cartu Announces – Captain Andrew Carlson on Commanding the USS Zumwalt…

Posted at 10:58h

in

AiroAV

,

AiroAV Anti Virus

,

AiroAV Antivirus

,

AiroAV Removal

,

AiroAV Remove

,

AiroAV Uninstall

,

Avantisteam AiroAV

,

Avantisteam Antivirus

,

Avantisteam Malware

,

Avantisteam Virus

,

Cartu Jonathan

,

Cartu Jonathan Network Consultants

,

Jon Cartu

,

Jon Cartu Computer Services

,

Jon Cartu IT Services

,

Jon Cartu Network Consultants

,

Jonathan Cartu

,

Jonathan Cartu Computer Services

,

Jonathan Cartu IT Services

,

Jonathan Cartu Network Consultants

,

Remove AiroAV

,

Uninstall AiroAV

0 Comments

By Dmitry Filipoff

CIMSEC had the opportunity to discuss commanding the USS Zumwalt (DDG-1000) stealth destroyer with commanding officer Captain Andrew Carlson. 

In this wide-ranging discussion Capt. Carlson describes the goals of this unique warship, what it is like to experiment and field advanced new capability, and what the legacy of the ship may be for preparing for great power competition. 

What would you say are the unique challenges of leading this ship and crew compared to most other ships?

Certainly, managing the maturation process in automation, integrating advanced technologies with legacy programs of record, and the minimal manning model all come to mind. However, none of those challenges are especially unique to Zumwalt.

The truly unique set of challenges for Zumwalt has really been orchestrating the path toward reaching an initial operational capability (IOC). Not only because of in-stride adjustments and acquisition decisions for certain systems but mainly navigating the dual-delivery approach prescribed in the Acquisition Decision Memorandum signed December 22, 2007 by the Under Secretary of Defense for Acquisition, Technology and Logistics.

DDG 1000-class ships undergo a two-phased activation approach, separating hull, mechanical, and electrical delivery (encompassing propulsion and support systems for safe navigation) from combat systems activation. DDG 1000 was originally delivered from the shipbuilder, Bath Iron Works, in May 2016. Since our arrival in San Diego in late 2016, the crew has coordinated with Naval Sea Systems Command (NAVSEA) for completing systems installation, activation, and testing, while subordinate to operational direction from the U.S. Third Fleet, and operating under the manning, training, and equipping functions of Commander, Naval Surface Forces, U.S. Pacific Fleet. This blending of delivery timelines and program milestones with fleet certification requirements and operational schedules presented a complex command and control relationship with shifting phases of supported and supporting efforts between the numbered fleet commander, the type commander, and NAVSEA.

Despite the challenges inherent in this approach, the benefits realized include an ability to achieve progress in each of the support roles to the different chains of command. Provided the ship systems met readiness levels, and the crew maintained training certifications under surface force guidance, Zumwalt was able to conduct operations at sea necessary for initial operational test and evaluation milestones as well as meet crew training and proficiency requirements while satisfying Third Fleet operational tasking. The best example of this was a Spring patrol in early 2019 after Zumwalt completed critical tier-1 certification requirements and eventually sailed over 9000 nautical miles, conducting first-in-class trials in Alaska, supporting engagement and security cooperation events with our Canadian partners in Esquimalt, British Columbia, and completed a transit to Pearl Harbor, all while conducting combat systems activation events and crew training sustainment.

Split delivery, though a necessary decision at the time, has been a challenging framework to operate in, though in retrospect, I am encouraged that the coordination between the fleet and NAVSEA has resulted in a meticulously managed progress toward achieving IOC, while providing opportunity for the crew to gain competence and confidence in operating Zumwalt and meeting operational tasking for the Pacific Fleet.

The Navy established a Surface Development Squadron that includes the Zumwalt. What is it like to lead a ship whose focus is experimentation, rather than, say, preparing for a traditional deployment?

I would adjust the framing of the question a bit to address the opportunity to experiment more explicitly, in addition to preparing for a deployment. The main focus of the ship is completion of developmental and integrated at-sea testing and achievement of initial operational capability. Along the way, because of first-in-class privilege, the crew also has the opportunity and even the obligation to experiment with the ship. The newer technologies in computing architecture, hull form, electric drive, and increased automation present incredible opportunity to experiment not only with technology and newer systems but in basic ship operations and tactical development applied to the class, and perhaps the fleet of the future.

The Surface Development Squadron establishment (created in May 2019 and now up and running today) and alignment of the Zumwalt hulls under one immediate superior in command furthers the opportunity DDG 1000 already enjoyed as a lead ship by positioning each ship under a commander charged with, among normal command duties, the rapid experimentation and developmental operations for technology and procedures. At the root of our training, maintenance, and operations, we are always looking for proficiency and the application of basic-through-advanced surface warfare disciplines in order to be ready for deployment.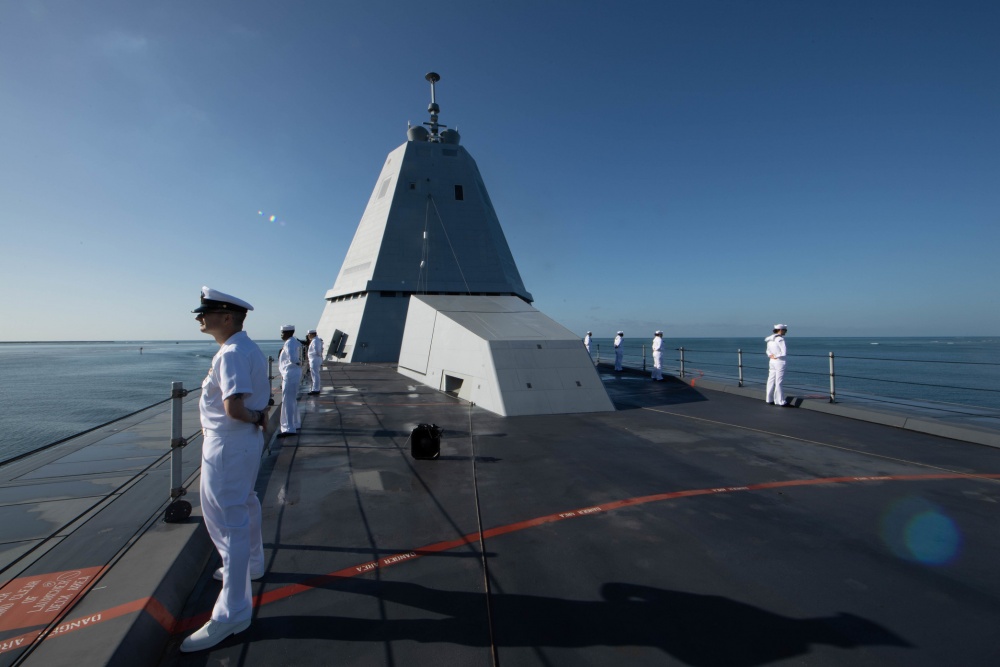 The privilege of leading a first-in-class ship that gets to experiment was already a great job. Under a boss who supports, enables, and encourages experimentation, I have even more license and support to push the envelope in all facets of surface warfare. And this is all framed under a mindset of "preparing for a deployment" as it also includes developing the concepts of employment, adjusting and refining the training and certification models for this ship class, and proving out the best methods for integration with fleet and joint operations.
For a ship that will probably not experience a traditional deployment or reach its full capability soon, what keeps the crew interested and motivated?
Zumwalt Sailors have a long view. They have a problem-solving tenacity undeterred by ambiguity. And they understand that deploying is not synonymous with operating. We are able to operate, and need to operate, for testing, development, and validation so that subsequent ships and fleet units are ready when we do deploy. That is motivation enough to stay on top of…